OPERATION AND   MAINTENANCE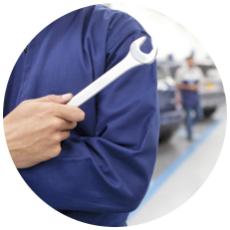 we have been providing to MEW for 3 years. These facilities typically include power generation installations of various types and sizes for power generation. we also maintain as a part of these contracts. It has, therefore, been a natural extension of our business to provide Operation and Maintenance services directly to the power plant and the power utility market. Knowledge of design and engineering process provides O&M personnel with greater insight into product operation, leading to more effective problem identification and resolution, thus saving time and cost.
We offer a range of contract possibilities for key power generation facilities associated with various levels of service. The most comprehensive service level involves the provision of Integrated Operation & Maintenance services, which means carrying out a tailor-made A-Z approach for the prospective clients.
Operating plants in a safe, compliant and efficient
Manner
Developing and implementing formal procedural, maintenance,
environmental and safety management programs
Maintaining overall care and control of the plant
and site Advising and recommending tooling and inventory
requirements
Recommending procedural changes, when necessary, to improve operation
Responding and adjusting to changing operating
conditions
Significantly reduces management time input.
Allows for a multi-level independent maintenance review, followed by
clear interfaces
QHSE management.
Reliability and availability.
Plant integrity.
Production objectives.
Cost Reduction.