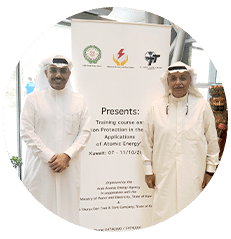 Al-Thurya is a Private Company founded in 1996 having five offices spread all over Kuwait with the Head Office in Fahaheel, Workshop in Mina Abdullah, Radiation and Technical Training Institute Division in Khaitan, Business Development in Mangaf & Fintas. Al- Thurya is Certified with an ISO 9001:2008 Certified & ISO 14001:2004
Sheikh Fahad Al-Sabah
PRESIDENT
Mr. Younes Al Saqqaf
VICE PRESIDENT
Our Company has selected areas of a niche market where competition does not exist, in other words, our company has accepted the challenge of being involved in the task of high-risk assertively while other companies are reluctant about it.
Through our Proactive approach, we strive to pave the road for our International Partners to establish their unique services & technologies by providing them with local potential contacts, influence and team building with the Oil & Gas Industry end users. We work towards our goal of providing unique support to our clients to achieve their objectives.
Al-Thurya has completed more than 22 years to reach this position by the continuous patience, determination & willpower to be among one of the best and continue to move forward with an innovative and proactive approach. Al-Thurya Trading is currently interested in Joint ventures or either Sponsoring with registered overseas companies to work in the State of Kuwait on a Project by Project basis or Exclusive basis. Our company vision goes beyond legal sponsorship to include the Strategy of Business Development:
Vision
To capture & conduct business in "new wave" market with International Partner in State of Kuwait where we can utilize our strength & capabilities to succeed.
Mission
Pave the Road for International Partners in order them to reach their objective through Local potential contacts, influence, team building and follow up.
Objective
Identify projects through assertiveness and rigorous efforts to be allocated to niche market projects which require companies with unique services. 
We're always interested in new projects, big or small. Please don't hesitate to get in touch with us regarding your project
If you want to contact us about any issue please call +965 23910341/5 or send us an email. If you would like to submit a proposal for consideration simply get a quote.